GUEST POST: This is a guest blog post from Lynn, a friend I met on social media.
About the blogger:
Hi everyone! My name is Lynn and my blog is over at www.lynnmumbingmejia.com. I'm excited to do this post for Rebecca's blog. I'm 24-year-old living in BC, Canada. My blog is full of Home Décor/Styling, DIY Crafts and Delicious Recipes! I love content creating and sharing different things through all my platforms. You can catch me on Instagram, Twitter, Pinterest, Facebook and YouTube! Come say hi when you've got a chance! Let's get started.
So, I grew up in a typical Filipino/Canadian household and never really had any flexibility to decorate my space. My parents rented our place my whole life so we were very careful to damage the walls or do much in our home. I moved out of my parents' place after graduating post-secondary back in 2018 with my boyfriend (now husband) and it was finally my time to purchase my own home décor!
Our first place we moved into was a 6-month lease. We rented a spacious studio and everything was included! We are very practical people and wanted to test out the waters first haha. After 6 months, we moved into an unfurnished 2 bedroom suite and I finally got to purchase furniture! So, we basically bought everything from scratch but knew that we wanted to get married and have a wedding soon so we decided to buy really cheap things that would last maybe about a year or two. This was basically many trips to IKEA and lots of LACK items! Fast forward a year and a half and after getting married, we were able to get a four bedroom townhouse which we are basically able to do what we want! Although we still rent, we have a lot of flexibility!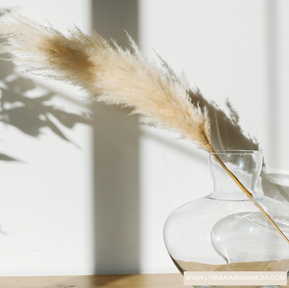 I shortly fell in love with a Boho Chic Home Décor style because of how open and bright it looks. My personality is naturally bubbly and bright so it was really the perfect match for me! I love neutral, whites, beiges, light greys etc.
I've been buying some things here and there trying to budget monthly purchases and there's so much I still want to do! I can't wait til my home is complete and I'm in no rush to make sure I piece it together like my vision! We're also saving to buy a house but since I live in the Lower Mainland, BC, houses literally averages at $1.2 million so it might take us a tad longer than we were hoping to buy our house!
Here is my list of 10 Boho Chic Home Décor Must-Haves
Dried Stems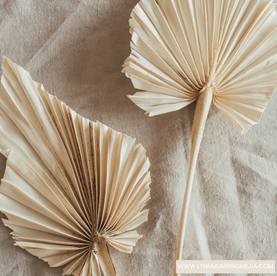 This one is my all-time staple right now, I bought a ton from a local florist! I love how this will last basically forever if you take care of them and they are so beautiful. Some of my favourites are bunny tails, pampas, eucalyptus and sun palms!
Rattan
If I could choose a material to make my house look boho, it would be to have rattan pieces! I love rattan and it looks so natural and bright in my home. My favourite rattan accessory is coasters!
Jute/twine is what I used for my wreaths and for other DIY crafts and they look great! I actually used jute to tie together my wedding invites and they were beautiful!
If you've seen my Instagram account, you'd know how obsessed I am with my new pampas wreath that I bought local as well! It's so simple and beautiful, you just can't go wrong with it! I'm not going to lie, I also put it on top of a missing paint patch on the wall because its super fluffy.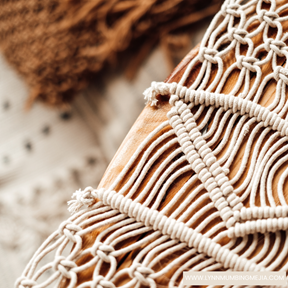 I bought 2 macramé pieces off Amazon last year and it was actually one of my first home décor purchases in my new house! I wish I bought it local but I'm sure I'll purchase some more in the future.
The key to the brightest place is definitely bright furniture! Everything that I've bought so far is a neutral beige, white or light grey but it is so pricey so I recommend planning what you'll be buying long before hand. I have so many cabinets/shelfing etc I want to buy this year so I'm really budgeting for it!
Greenery is always so nice to have and keeps the home lively. I sure do not have a green thumb and killed my poor succulent last year but I do want to have a few more this year! Hopefully soon.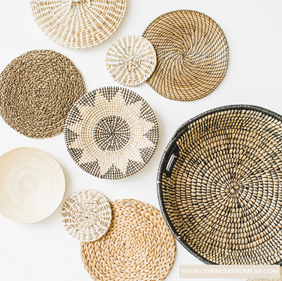 Tapestry is nice as well but I just don't have it. I plan on doing some baskets in the dining area either this or next year!
If you've seen a lot of boho décor inspo on Pinterest, you know that theres lot of patterned fabrics and geometric shapes! I don't have any in my home yet but I plan to purchase nice cushion covers shortly this year too!
I am obsessed with Vases! I got a few jars and vases last year too and every time I go to the Dollar store I tend to have a few more in my cart haha. So pretty and you could fill them with a variety of things!
I hope you enjoyed reading this list as I enjoyed writing it! Just a reminder, this list is definitely not limited and might have missed other boho décor staples! I've been buying and styling my boho inspired home since June 2020 and I'm not even close to done! I'm loving how bright my home is and I have the whites and beiges to thank! I think we all need that extra brightness right now.
This ends my guest blog post, but I wanted to say that life can be as cozy and as happy as you make it to be! I'm determined to help everyone find this love for life and I hope you are one of them! You can catch more posts in my blog like these!
Thank you again to Rebecca for collaborating with me and doing a guest post! We've been messaging since last year and it's been great getting to know her. She just revamped her blog and I'm excited to see her content for 2021. Hope you have a great week!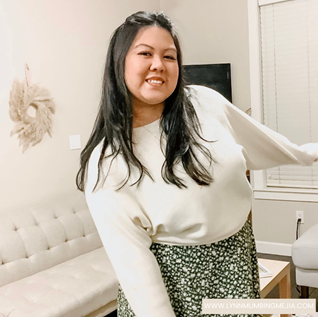 Here's how to find me: